If you go to Google's main page today, you would have realized this Google Tisp (BETA) link:





Try clicking on it and you will be directed to a sign-up page for a FREE wireless broadband service!!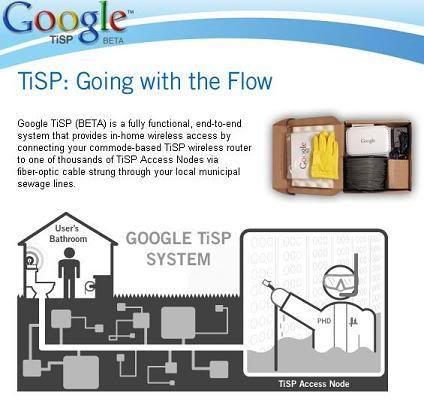 "Sick of paying for broadband that you have to, well, pay for?





Introducing Google TiSP (BETA), our new FREE in-home wireless broadband service. Sign up today and we'll send you your TiSP self-installation kit, which includes setup guide, fiber-optic cable, spindle, wireless router and installation CD."



Sounds too good or silly (read: huh? put cable into toilet bowl? lol) to be true?

Well, it is and its the 1st of April today if you have not realized. Good one, Google. lol.

Happy April Fool's, folks.


Also check out this: Top 100 April Fool's Hoaxes of all time, starting from #64 Singapore's Y2K bug solved.