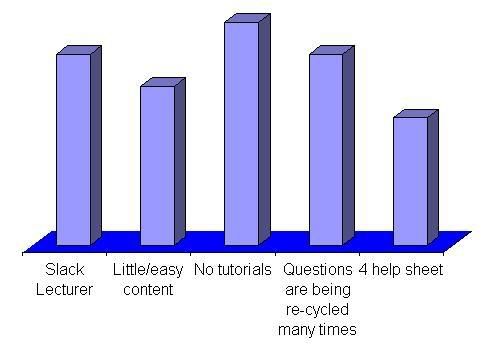 If you are looking for a slack gem module to clear, I highly recommend GEM2900 (that is if they never change the lecturer). This is a type C gem, meaning it can count towards either gemA (science) or gemB (arts). Of course, slack module does not necessary guarantee an A. But if you do know what to expect and provided you have some interests in stats and probability, then most probably you can do pretty okay in this.

Understanding uncertainty and statistical thinking. This is a statistic course which introduces basic probability and statistical concepts which develops skills in interpreting statistical information and critically evaluate statistically based arguments. There is no concept in this course that is too hard to grasp, perhaps the most difficult obstacle is understanding probabilities, which appears to be the either-you-get-it-or-you-dun category, but in fact they are doable with a bit of a practice. The rest of the content are manageable and there's nothing too mathematical which means the less mathematical incline folks can take this without much worries.

The one thing that's great about this module is that there's no tutorials, which translate into more free time. Furthermore, the lecturer appeared to have a craving for early lunch which led to our early dismissal on too many occasions. It also appeared that the lecturer does not have the desire to create new questions for tests and examinations which left some of us in shock when we found the questions for tests and past year papers all too familiar to be true. And one has to wonder if the lecturer is actually a kind-hearted, understanding person or is he competing for some best bell curve awards or some sort for allowing 4 (FOUR, I spell Foxtrot Oscar Uniform Romeo) A4 pieces of helpsheet for the final examinations.

Okay I better don't anyhow count my chicks before they hatch...