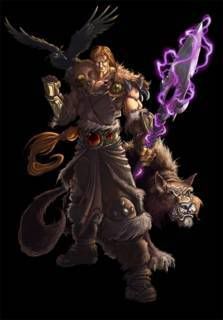 Currytan set foot on his diablo2 journey only during his army days, due to boredom and the existence of a certain crazy diablo addict who sort of motivated him to explore further into the game and even writing a fan-fiction. So, towards the end of his diablo2 career, Currytan wrote a short story entitled

"Journal Of a Rogue Hireling"

which was based on the perspective of a hireling instead of main characters, as she travelled the diablo world with her master, a Druid. The story was only posted on Planet Diablo Forum and was completed in Dec 2004. Nothing much was heard about it since I quit the game. However...

Yesterday, Jere, who was surfing the net in the PC cluster with me, accidentally stumbled upon a mysterious blog by the name of currytanthewindwalker. He typed "currytan.blogspot" instead of "justsomegibberish.blogspot" and got a shock of his life as he thought I have changed my blog completely.

Yet, on closer examination, I realised what that blog was all about. My entire story was posted there!! Sheesh... I've got a fan??! Crap, someone posted my story without my permission.. Wah lao, only want the story to be read within the PDF community only lor.

But then again, I am not really disturbed by this, it has been quite a while back anyway. Now if

you

somehow want to read my lousy story, you know what to do..