I must say i indeed took too long a break and neglected this site for way too long. But, i couldn't help it if time wasn't really on my side with so much assigments, lab reports, projects datelines to meet.

Yes, i have been busy.

Ok, Maybe.

I think.

Ok, fine fine, that was such a bad excuse. Alright, i have been lazy. And also coupled with the fact that there's nothing much interesting to blog about anyway. Life as an engin student, what do you expect? But then again, i guess no one misses me, so i supposed its ok for me to disappear. Ha..

The pace this sem seems awfully fast and its already mid term liao. No, shit, mid term break is ending soon. And i am supposed to catch up with the DSP module this break, the module which i totally neglected for the first half. I really mean totally, never go lecture, never watch webcast, never do tutorial, never do lab. Lab report due in around 3 weeks time and i have yet to even start. Crap.

The gaming module was fun and gave my useful insights into the gaming industry. But the worry is of the question of how to study the module. As for the demos, i've played most of them. Some are quite addictive, some are just real crappy.

Microprocessor system module arh, honestly, the lectures are pretty useless. I mean, most of us normal beings dun understand wtf is going on in the lecture. I hope. lol.. Its the tutorials that help us understand a bit. But its the lab/projects that really makes everything clear. Ha, speaking of which, the project quite fun, managed to play the happy birthday tone with my codes.

The one joy i can derive from this sem is integrated analog design which i believe i understood most of it thus far. The lab was done and now proceeding to the major project which requires us to design an op amp to meet certain specs.

Now now, it should looks something like this: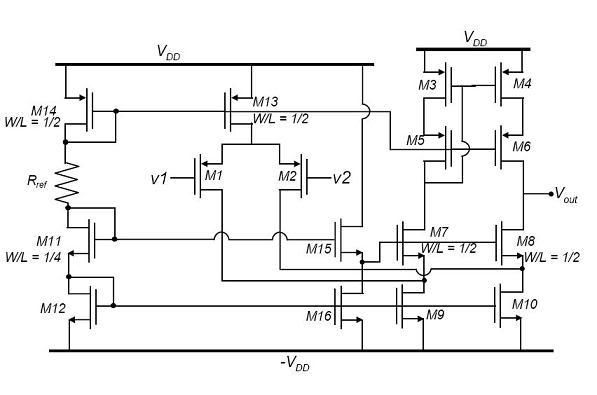 If you thought the circuits in EE2005 (electronics) was complicated, well.. think again..


Ah crap, i think i am crazy. All my friends think this module is crazy. Lecturer also crazy, pace of his lecture is like machine gun. (But he's darn good i must say!) And the competition of this module is indeed crazy. 2 hands not enough to count the number of dean listers in there and not forgetting to mention those with ic design sponsorship. So many zai kia and i am like at best mediocre. Screwed or what?