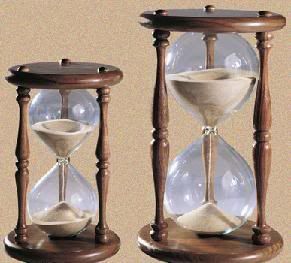 Question: Supposed you have 2 hourglasses, 1 runs for 7 mins and the other runs for 11 mins. How can you time a duration of 15 mins with these 2 hourglasses only?



PS: The time starts ticking the moment you turn over either or both hourglasses.




Updated: Problem solved by

Beng Keong

@ 2:39 PM, January 28, 2007 in the comment section of this post. Credits must also be given to

Naka

who solved the problem via sms.