We had a try at a restaurant along princep street, Absolute Haven. It certainly left a great impression and will probably be going back to try out the other dishes.

The ambience, it was really relaxing and pleasant. The romantic setting is ideal for couples with the dim lightings and lovely music, although of course, group of friends can equally enjoy the pleasant ambience while catching up with each others lives in the midst of the great food on the table.

The service was great with friendly staffs topping up our ice water (with strawberry flavor) regularly and food served pretty fast. I recalled an experience in another restaurant where we had to wait quite long for our food despite the fact that we were the only customers! Then we were joking that the cooks had to go catch the chickens and fishes… Here, we didn't have to wait long; the soup came in like 5mins and shortly after, the starters.

The soup was mushroom soup. It was yummy and the bits of mushrooms taste great too. The soup was not too thick or diluted, pretty much to my liking. My starter was soft-shell crab with beetroot. Although portion is abit little, it was crispy and the meat was sweeter than I had imagined, very appetizing indeed.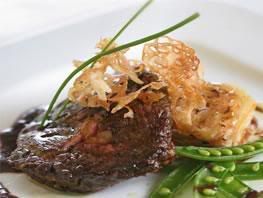 My main course was Ribeye steak. The portion of the steak was just right, but it was the potato gratins that make it filling. The gratins contained potato and cheese I think. The meat was soft, that the knife just went right through effortlessly, and omg juicy and tender. Add some flavor to the meat with the sweet port wine sauce that's drizzled presentably around the plate.

We didn't had dessert there, although I heard their tiramisu is a must try. Perhaps next time.

So there, if you guys are looking for a great place to dine, there is Absolute Haven for you to try out. I give it 4/5!