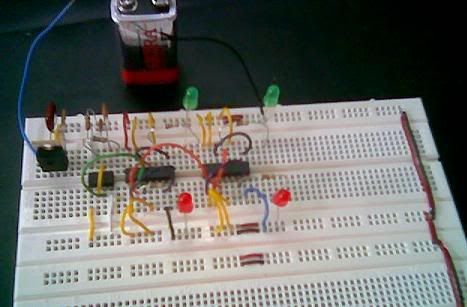 I am supposed to design a tsunami alert system for my D1 project for EE2006. Basically, if the seismic activity (S_amp: on a scale of 0 to 5, where 5 is the highest activity) is greater than 3, raise the alarm by flashing a red light for S_amp*3 time unit and follow by (16 - S_amp*3) time unit of green light. If S_amp is 3 or less, leave the system at 16 time units of green light.

Design of the circuit is due next Wednesday, but I have yet to come up with anything due to the mid term tests. I am so screwed. =(

Was playing with the breadboard and then I itchy finger go and cut the legs of the 10 nano capacitor so as to fulfill the requirement set out for us: "
5) The legs of the resistors, capacitors and LEDs should be only long enough to connect any two points on the breadboard
." Cut cut nevermind, but I cut too SHORT.... Then i go bend the legs in hope that it still can fit into the 2 connecting points of the breadboard. Bend bend bend, then it BROKE. Holy shit, I am so screwed. So sian lar, cannot play with the breadboard liao. =(