Now there are less than 4 days left till Christmas, shopping for a gift for your gamer guy friends, where most of my female friends still find it quite hard to fathom people like us, can get downright annoying where they probably got their hands onto the games they desired or nothing else in the world seems to matter more than their world of dungeons and dragons. Now fear not, here's some ideas to help you get the things I want. =p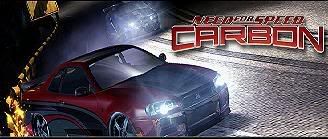 Unless you are very sure of his type of games, don't bother buying a game for him. Imagine getting a Need For Speed Carbon for a Final Fantasy fan or Football Manager 2007 /Winning Eleven 9 for a person who knows nothing about soccer, terrible mistake man; those boxes would probably ends up in the shelves collecting dust.

If you do know what games he is into, by all means all ahead with it if it's within your budget. Wow your real-time strategy MMORPG friend with a World Of Warcraft (aka WOW) for this is a must have for that genre. Downside is that there's a monthly subscription fee to play online though. Medieval Total war is yet another great strategy war game which allows you build an empire and engage in historical campaigns. Get a heroes of might and magic 5 (only if he is into turn-based strategy games) with tactical turn based movements and battles. This is the first HOMM series to implement 3D graphics and was quite a good improvement from the 4th especially the adventure maps and the battle animations in my opinion. Not all gamers fight in a fantasy world though, especially with kids who can't take violence and blood. You could always go for simulation games like NoLimits roller coasters simulation game or roller coaster tycoon where one can build and ride on his own roller coasters.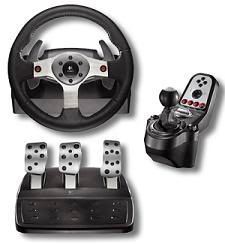 Gaming gears, in my opinion, will make a much better gift for gamers. What can be worse than a lousy insensitive mouse or having to play a racing game with lousy keyboard controls that screws up your game play and the gaming experience?

Get a Logitech G25's steering wheel, complete with gas and brake pedals plus a 6-speed gear clutch to enhance your driving experience that shakes with intense force feedback. If this is too expensive a gift for you, try the G15 keyboard instead. It has a folding LCD screen which can display gaming stats, programmable keys to execute complex macro keystrokes and a cool backlit keys for the late night gamers; no gamers will say no to that. Last of all, the Fatal1ty 1010 gaming mouse for the First Person Shooter (FPS) such as Counterstrike, Doom3 and the likes, for greater control and reaction.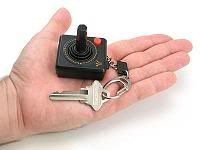 For the real geeks, perhaps you could try out the Atari 2600 joystick and paddle Keychains. They actually contained games, just plug in the cable into the tv and one can enjoy real Atari games!

Who says you need to buy something for a gift, how about cooking a great meal or baking some cookies and cakes? As the saying goes: the quickest way to a man's heart is through his stomach, though most guys would say they are aiming a bit too high. =p