Results


I got back 2 results today.


results to my financial aid application.

results to the exams for my second semester in nus.

1 good news and other disappointing.

So there, I shall leave you people to guess which is which.. lol

-----------------------


Guards family day and reservist info
for fellow comrades


I guess most of my platoon people must have recieved their reservist letter and the NDP/guards family day invitation.

So, regarding the family day thingy.. anyone interested? Lets...erm..take it as another platoon outing ok?



"Charting our future, strengthening our foundation." - 724 Guards.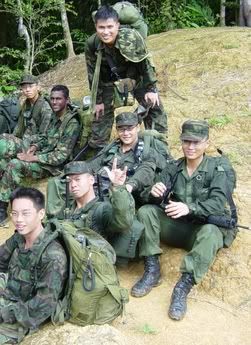 What to bring:

Standard stuff: Full pack, SBO, helmet, number 4, admin t-shirt and shorts, pt kit and shoes, jockey cap and beret, 11B

and

pink ic/drivers license

Others:
Locks for cupboards, notes on signal stuff, wire cutter, spanner
, personal stuff



For support side:


Our OC Support is LTA Joe (formerly mortar), but it seems the man is deferring, so the stand-in is the Scout PC known as "Tiger".

There are no designated Lightstrike PC/PSes yet

Jason won't be coming, so Pioneers will be led by Sg Neo.

Jon Lau isn't coming either, so Mortar pl in the good hands of Yinghao.

We do, however, have two BSOs - Shung Yar and Mr Yam, and one of them might be deployed elsewhere. Our Sgs are the dynamic duo of Gavin and Zhou.

Our CSM is Kua, formerly from Lightstrike


Sufian is our CQ.
At the Bn level:

S3 is a K K Goh, a fellow from MOE (admin side).

S2 is Jacky (formerly Dy S2 in our time).

S1 is Jeremy

S4 is Heng Chuan.

RSM is an Indian chap.

RQ is some old Chinese dude.

MO is the same - Doctor Tee.

QM is Yu-An.

OC Alpha is Edwin Khoo

OC B is Quak

OC C is Leng Wan (he was at S3 branch for a while).


MTO is some fellow surname Ling (William's predecessor).